CITY OF ABBOTSFORD FIRE RESCUE SERVICE
SECONDARY FIRE ACADEMY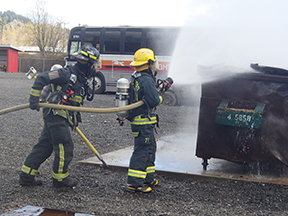 The Secondary Fire Academy is a program designed to meet the requirements and parameters of the Secondary School Graduation Program where students are required to complete 100 hours of career related work.
Several students have expressed an interest in firefighting as a career; however, they may have little knowledge of the skills and training required for this career choice.
The Secondary Fire Academy will allow the students to learn about, and practice some of the skills and training firefighters must undertake. In addition, the students will learn information that will enhance their current skills and knowledge, particularly in physical training, teamwork and mechanical aptitude.
The entire program scheduled into one week period format over spring break. A total of eight students will be accepted this year. They will follow a structured training program that varies each day.
The Aptitude Examinations and Application must be completed and submitted under the guidance and supervision of the sponsoring teacher or the school career coordinator.
Any questions about this program should be forwarded to the school career coordinator.